Commitment – Consistency – Potential
Three words that were given to me by a coach I met last year. He is fighting with cancer yet keeps going – every day – consistently. Yes, that is the sticky note on my vision board. Has been there since the day I heard those words in his video. You told us to write them down! 🙂
Looking at the fight he is in and the commitment he has gives me strength, determination. Driving my potential…
We all just need to start – move forward – momentum will carry you forward. That is the hardest part – starting.
Once you get going, keeping the momentum is the next step.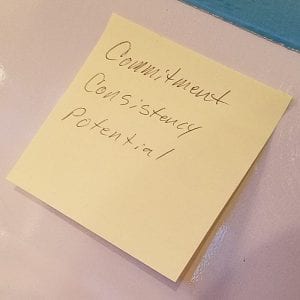 Once you start – goals and direction will follow.
Vision = end focus – what to shoot for!
From visions come dreams.
Give it a timeframe and dreams become goals.
Break down the goals into smaller steps – tasks.
Tasks give us short term targets, easy, manageable. Connect the dots.
Once we start to build consistency, there is no stopping us!
Peace and Love,
-Dennis