Beginner Triathlon – Equipment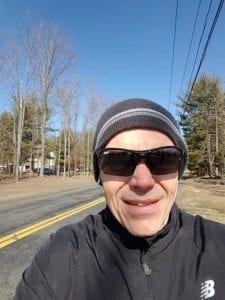 A beginners look into triathlon racing.
This is the next post in a series for the beginner triathlete. I just want to run through the basics and get you to start thinking…
There is a LOT of detail to cover and after only two seasons of competition I am only beginning to start learning myself. This gives me a good perspective as I am still relatively new to triathlon.
One of the things I am good at is asking the dumb questions. Believe me, I will ask the REALLY dumb questions. If you are shy, send me an email and I will ask them for you. I am fortunate in having a great support team to go for more information.
Review from previous post
Know your competition
Step 1 – go find a mirror (seriously)
Step 2 – Look into the mirror – look deep into your eyes
Step 3 – THAT is your competition! Period.
Let's continue on with what you will need to accomplish a triathlon – equipment wise.
What do you NEED?
In order to compete in a triathlon you only need 3 things:
1. A bathing suit – Nudity is not allowed. At least for the races I participate in. 🙂
2. A bike – any bike will do, really.
3. A bike helmet – safety first, a helmet is usually required.
That pretty much sums up the NEED of the sport. Everything else is optional. Granted, many of the optional items, like sneakers, will make the day much more enjoyable, they are not necessary.
There will be many articles, forum posts, and discussions on which is better, x versus y, for almost ANYTHING involved with the sport. What it really comes down to is what is comfortable and what works for you. There are so many variables with regards to all the equipment, it is best to focus on comfort.
This brings me to another key point I would like to stress – support your local community. This is a philosophy I really believe in. Support the local mom and pop shops for as much of your needs as possible. I will expand on this in another post – the simple part is:
You can try stuff on
You will get local knowledge – what works in the local environment
You will support the triathlon community
What you gain in "freebies" from support to knowledge will more than make up for the minor savings in a few dollars.
These are the people that support the races – more local support = greater local opportunities.
I have yet to see a race that I participate in sponsored by Amazon? I do see Newington Bike at all of them… I will harp on this more later.
Things you will want
(here is a link to download my checklist)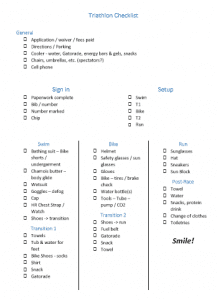 Now we will take a look at things you will want to have. These I include in my "must have" list.
General items
Triathlon suit – one or two piece. For convenience and comfort I personally use a two piece suit. The tri suit has less padding than regular bike shorts in the seat of the shorts and are made to reduce the amount of water they retain. This will benefit you on the bike / run.
Body glide – looks like a deodorant stick. Use this anywhere on your body where you may "chafe". I make sure to add where my heart rate monitor buckles and around my neck at my wetsuit collar.
Chamois Butter – add to your bike shorts / groin area to minimize chaffing from your bike saddle. Some use body glide here as well.
Transition bag – a nice big bag to hold all your stuff to bring into transition.
Swim Items
Swim goggles – these come in many shapes, sizes and colors. Make sure you can try them on before you buy them. Even similar makes have minor changes in fit.
Swim cap – Depending on the triathlon you participate in, they may give you a swim cap of a specific color. This will typically determine the "wave" you will start in. Since you may be required to wear one in a race it helps to practice with one beforehand to get comfortable.
Wetsuit – this is optional. Some races where the water is warmer will not allow you to wear a wetsuit. If you can, they really help. The only downside is removing it in T-1 (first transition between swim / bike – aka T1). You need to balance the speed increase you will gain versus the loss of time in wet suit removal. For me, I benefit more by wearing one.
Transition 1
Towels – (2), one for your feet, the other for face / hands
Tub / bucket – fill with water to wash your feet. I do not use, others do.
Nutrition – Depending on the length of the race you may want water and gel pack or an energy type bar.
Shirt – some women wear just a sports bra for the swim and put on another shirt in transition. I wear my triathlon top throughout.
Bike
Bike shoes
Socks? – some people use them (me) others do not. Personal preference.
Sun block – depending on the length of race you may get quite a bit of sun.
Helmet – this is always required to wear.
Safety glasses or sun glasses. Inexpensive safety glasses can be had for under $10. Buy a few different shades. You never know if the sky will turn cloudy / sunnier than a bit earlier. Always nice to have options.
Gloves – I do not wear gloves, some do.
Bike safety kit – including CO2 cartridge, spare tube, levers, etc.
Transition 2
Towel
Nutrition – again, if a longer race, you would be wise to have some water / sports drink / gels to fuel up before you head out on your run.
Fuel belt / race bib – depending on the race you may need to have a race bib w/ your number. They have combination fuel belt / bib holders. I usually just pin to my tri top before I start and wear it throughout the event.
Run
Sneakers – maybe a change of socks
Hat
Sunglasses – new clean pair
Sun block – depending on the length of race you may get quite a bit of sun.
Post-race
Towel
Change of clothes
Snacks / drinks – protein!
Toiletries
A BIG SMILE!
Nice to have / wish list
Here is where is starts to get a little interesting. Many items here are what a lot of people will call "necessities" 🙂
Another bike – no matter how many you have, you NEED another. The next one will be better, faster, stronger, well – you get the picture. This is called the "N + 1" equation. N = number you currently have and the +1 is the next one you NEED…
Electronics – Fun, fun fun…  How can you work out and compete if you aren't tracking your data? Data is POWER! There is no end to the amount of electronics you can use. Will just keep it simple for now.
Bike – speed / cadence. You add sensors to you pedals / wheels to track your speed and cadence. Cadence is how many revolutions of the pedals you do in a minute. Typically between 80 – 100 for road and 65 – 85 for mountain bike.
Computer / watch – this can be bike mounted or wrist mounted. You can even buy "quick" connects and move it with you. You may wish to purchase one that will cover all 3 – aka a "Multi sport" watch. I do like having it available for my swim training. I tend to focus on my drills and forget what lap I am on.
There are a TON of sites with regards to the equipment of triathlon racing. One of the better sites I have seen is https://www.dcrainmaker.com/
I like the fact that he is very thorough and returns all the freebies he receives. He will then go out and buy the stuff he uses. From what I have seen he is a pretty neutral reviewer. VERY in depth – extremely knowledgeable.
Coach – this is a really good one. Nothing helps more than a coach. If you cannot afford or do not have access to one, a mentor may be the next best thing.
There you go..  All the basics are covered for participating in a triathlon. Next up, training to get you there… and finishing!
Time to start training!
Peace and Love,
-Dennis
Please follow and like us: