IRONMAN® – Lake Placid = Magical!
Here is my race report for IRONMAN® Lake Placid. A little information before, during and after the race weekend.
Pre-Race
Long rides during training were challenging. It would appear almost every time I would do well with drinking / nutrition for the first half of the ride and somehow "fall off" for the second half. Each ride I would try something a little different, add things, stop more frequently, etc.
Valor training camp proved to be a good challenge as well. Originally I wanted to do the full 140.6 miles over the 4 days of training. This proved to be a little difficult due to the schedule – rain, thunderstorms and such. There was plenty of time to get a lot of miles in. The only part missing was a loop of the swim course and about 6 or so miles (overall) running. The 3 loops of the bike course proved to be very valuable. Physically and mentally.
A week or so (3 or 4 lol) leading up to the race, I am hungry all the time. After the camp weekend I kept having cravings. Couldn't really nail what they were so I would eat a little bit of everything: Salty, Sweet, Protein, Fats, Carbs.. Weight stayed pretty consistent. Strength stayed up there even on the weekends with the long workouts. Fat % came down a little as well. Overall body composition seemed to improve weekly.
I stopped weighing / measuring myself a few weeks prior to the race. Figured I wasn't going to make a huge change at this point in time. It is what it is. Just make sure I keep my strength up, feel good and stay healthy.
Bike fit
Right after camp weekend I had a bike fit. This was probably later in the training cycle than what I should have done. The opportunity (and money) presented itself so I took the opportunity. The fit was a major change. Raised the seat over an inch plus. Aero bars extended forward well over an inch and a half as well. Changed shoes, went from mountain bike shoes to triathlon shoes. This also included changing the pedals. I was able to get in a few good rides and a sprint race at Lake 'T' and everything seemed to fall into place. Changed the gearing from 50/34 & 11/28 to 53/36 & 11/32. This will give me a little more high end and a little better climbing gear. Did a few rides with the new setup (fit) and had a few issues. Back to see Chris and was fixed up when he did the gear change.
Lake Placid
Headed up to Lake Placid on Wednesday the 19th. Toured the area with Tammy and then settled into the house. Had a little dinner then went for a quick run. Afterwards gave Tammy another little tour of the area. Met up with Richard – a friend from last year's "Volunteer Camp".  Tammy and I then went to grab an ice cream.
While in line the lady in front of me had an "M-Dot" tattoo so I asked if they were racing. The couple were from Maryland (where she had done an IM) and no, they were just there to spectate. When it was time to order Rick (I believe?) bought our ice cream. How nice of them. Quick chat outside… more new friends!
Check in!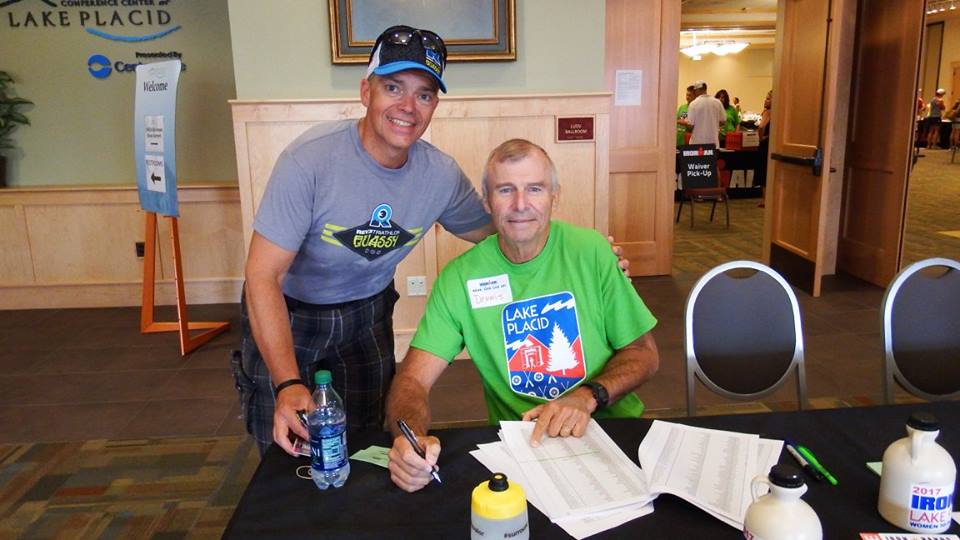 Thursday was a quick swim and more visiting with people. Checked in and made it official. Worked on the gear bags. Already had most of the stuff done back home, just needed to layout and get ready for the right bags. Tammy and I took a ride around the bike course to see the new out and back on Bobsled Run Lane. Nice new pavement and looks fast! Headed down the Keene descent and captured a little video.
Friday
First stop – Bacon's Meat and Greet. Really nice to see all the people hanging out. Met a few old friends from the past year and also a few new ones from the Facebook groups. Great breakfast – bacon and eggs!
Back to the house and prep for my workout. Cadence still not working. Headed down to the bike shop, picked up a new cadence sensor. Did a little swim, quick ride (cadence worked great) and then a quick run – shakeouts. The lake front area was packed with people as they were doing the "IRONKids" race at this time. Looked almost as busy as Sunday morning…  almost! 🙂
Friday evening was a BBQ dinner over at the other athlete house rented by coach Jeff K. Excellent meal, great group of people and a nice conversation. We hung out there for a while and enjoyed sitting by the fire and sharing stories.
Saturday
Rest day – Wake up in the am and start having issues with diarrhea. Not sure if it was the food from the BBQ, the anti-biotics or nerves? Not good.
Side note – I have Celiac disease which means I am allergic to gluten. This comes from wheat, rye, barley and soy. Although I am very careful on what I eat, there is always a chance of contamination, etc. First sign of gluten is diarrhea then stomach pain.
Checked bike in, found a great parking spot for my truck (left over night) and had Erin pick us up to get back to the house. Through the day sipped on Gatorade. Dinner was chicken parm and pasta. Did pretty good eating and getting in the carbs in preparation for Sunday. Stomach issues continued throughout the day. Oh well. It is what it is.
Saturday night did not get to bed as early as I had hoped. Shower, tattoos and in bed around 10 ish, quick Facebook post and then laid down. Took a little while but was able to get ~ 5 hours of sleep.
Pre-race nutrition planning
I planned on having enough of a variety in every one of my bags. You would think I was a starving athlete. Having never done a race at this distance I did not know what / how I would react. I do know that my nutrition on the second half of the bike has always been an issue – looking back at REV3 Quassy I was WAY behind on calories.
In each bag (T1, Bike special needs, T2, Run special needs) I had:
Salted baked potatoes
Lara bars
Beef stick
Pop tart
Gu gels
PBJ
Chips
In my bike special needs I had a bottle of flattened coke for the second lap and some extra base salt in an M&M container.
My plan was to have plenty of options to choose from. I figured there would be something I would want to eat. I figured out that I had enough food to just about replace ALL the calories I would burn. I was taught that we can probably replace 1/2 of what we consume and much more than that could contribute to GI issues. My plan: bring plenty, eat half. I think I can handle that.
Race
Race morning – up at 3:00 ish. Dressed and headed downstairs for breakfast. Nobody really up, just one person downstairs. Breakfast was a pancake with PB and honey and 3 fried eggs w/ coffee and roctane. Had a bottle of roctane to sip on through the morning.
Everyone else was up by 4:15 – 4:30 and we headed out the door.
Parked at the municipal lot and walked down to transition. Loaded up the bike (GU gels, potatoes, water and roctane) pumped up the tires. Headed over to the porta potty, long lines, then changed into my wet suit. Ate my pre-race bar during a quick walk with Tammy to the truck (make sure it was still there). We then headed up to drop off my run special needs. While walking up to special needs had a beef stick. Back down to the lake and prepped for a quick warmup.
Swam out to the small buoy line, floated around a bit, embraced the water… felt great. Swim back to shore gave Tammy a kiss and headed over to get in line.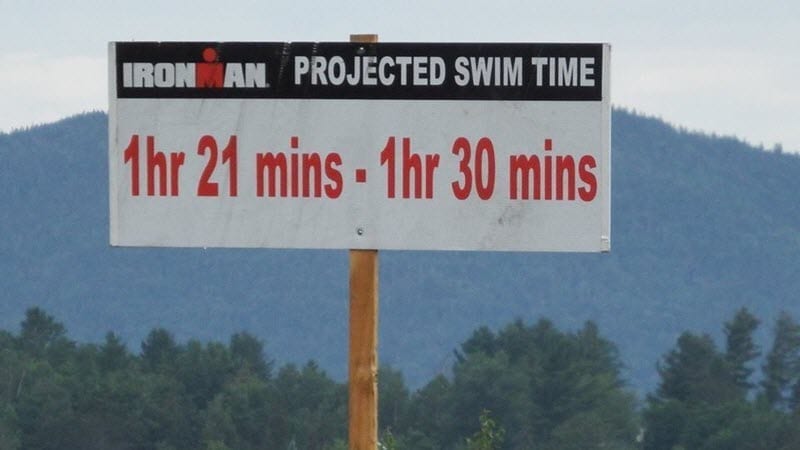 Lined up in the middle of the 1:21 – 1:30 group. My target was 1:30 and I was hoping to swim a 1:25. Met up with James Pou (fellow from IMLP Facebook group) and Cathy (house-mate). About 15 minutes to start, time for a GU gel. Shortly after they played the National Anthem and quickly followed by the sound of the first cannon – the pros were off.
It didn't take long and we heard the second cannon – the group started moving towards the water. The time was near. I felt good.
Swim
A few minutes later, we were at the front and in the water. A quick walk out and jumped in – time to go.
The swim was great. The feeling of "getting it done" was awesome. Months of training had gone into this day. I felt ready!
Pretty early I was able to find plenty of room a few yards off the cable. My pace put me in the middle of a couple of groups and plenty of room around me. That didn't last long… People would come from everywhere. Left, right behind.. A few passed me pretty quickly. The only thing I could think of was the pros / early people getting their second lap in (I have since read a pro race report and this was the pros plowing through the age groupers.).
I kept it nice and smooth with little kicks. Reach, elbow up, pull, glide – go! No heavy breathing, no over exertion. Was able to get near the cable for a while with no one around. Next thing people are on both sides of me and coming towards me… slow down, let them crash into each other, go wide left and keep going. This pattern would repeat itself for both laps. Wide open, pass people, people passing me, cramped quarters, wide open again. Really weird. It seemed to work well as I was swimming with similar capable people yet every once in a while I would pass quite a few, then get passed by a few others too.
First lap was about 42 minutes, right on the money. Second lap was about 45 minutes, just about right. I really felt like the second lap was faster..? I know I did slow down quite a few times due to crowding, oh well. It worked out just fine. Officially out of the water in 1:27:11 – which equates to 2:04 /100 yds. – My Garmin had me swimming a little farther (4600 yards) and that pace works out to 1:54 / 100 yds4. Either way – a great swim. Happy!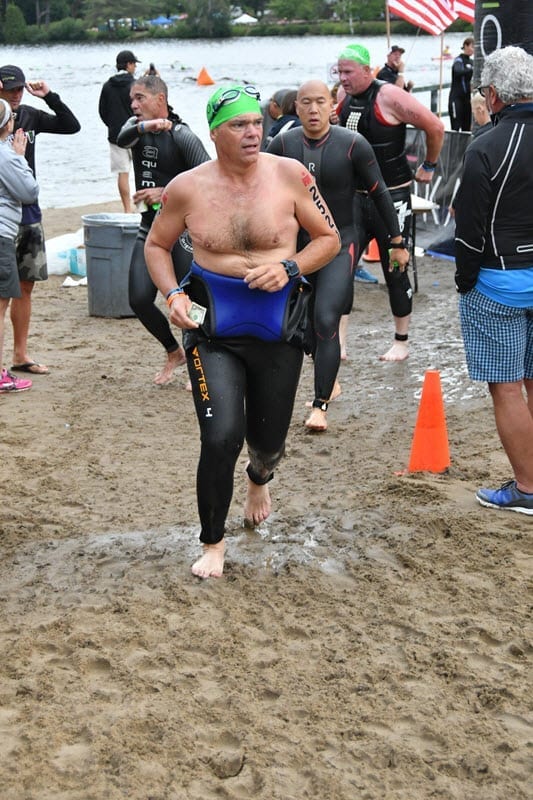 Running out of the water, find a "peeler" lay down, wham – wetsuit off – hand him a dollar and start running towards transition. See Kurt and a few others. Can't miss the big yellow puffy hand.
Transition 1
AKA Baking cookies. My estimated transition time was 10 minutes..  Boy was I off. Run down from lake, grab the gear bag, went to the porta potty and then into the transition tent. It took a while to get situated as this was way different from other triathlons. Found a seat, started going through my bag. This was confusing as I had not done a transition this way. Tried changing – which was not easy even though I dried myself pretty well. My shirt got stuck around my chest and I had to call a volunteer to help me. Put all my nutrition into my pockets, grab my helmet and my HR monitor strap fell out. Damn, forgot to put it on. Pull up the shirt, body glide the sensitive areas and put on my HR strap. Eat a 1/2 PBJ sandwich grab a bit of water and headed out. Wrong way – need to exit the back of the tent, run all the way around transition to pick up my bike at my rack. I thought we picked up our bikes at the exit – aka bike out. Confusion and ignorance played a lot in the extra time it took – 16 minutes..  I am going to tell everyone I was baking cookies. 🙂
Bike
Run up to the mount line, hop on and start heading out. Cadence not working..  Again! This is getting frustrating. This happened the last few training rides. No biggie. Will just need to focus on heart rate and perceived effort.
For the first part I focus on getting in liquids and settling in. Need to do this only by heart rate since I have no cadence info. My HR was a bit elevated as the first part is a climb… I tried to keep it as low as possible. Up to the first out and back with brand new pavement and pretty flat. Flat until the end then you go around a little S-turn up a hill and down to the turn around. Right after is the first aid station where I picked up a bottle of Gatorade. I had already put water and roctane on the bike first thing in the morning so I just needed the "G". Quickly out and down the S-turn and headed back to the highway. Right onto the highway then about 1/2 mile and on to the Keene decent.
The Keene descent is the best part of the bike [for me]. First section I passed at least 8 or 9 people. On the first "flat" section Christy passed me. We did a little back and forth going down the decent – I had to get as far in front of her as I could. I knew she would pass me on the flat section coming next. Finished the decent into Keene passing at least 20 plus people. This is the fun part of the ride! Hit 50.8 mph on the decent. I believe this is my max speed on this course.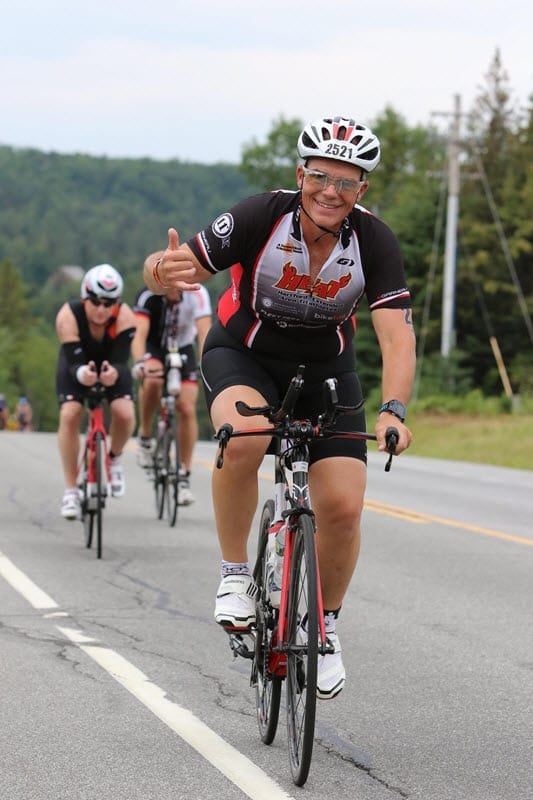 Once on 9N – time to really settle in as it is going to be a long day. I keep a decent pace by feel yet the HR still stays a bit high. Legs are already starting to burn a little – no cramps just the start of muscle fatigue. Seriously! I don't think I have ever felt any fatigue this early in a bike ride. This shouldn't be happening.
Can't let this start so early – have another lap to go and a marathon to run. Keep backing off, feeling good, and just riding it out. Potatoes going down well, drinks going in a little behind schedule, still getting in a good amount of fluids. Gel, Lara bar, beef stick, potatoes and plenty of fluids.
No sign of Christy – I was worried. I knew something happened as she should have passed me. I was hoping it was a flat tire, or something little that was just holding her up a bit. – would later find out she was not that lucky. Crashed on the Keene descent – we believe around the location where it goes from 3 lanes down to 2 and they had cones set up. Someone thinks she may have hit a cone that was already knocked over??  Not sure as she does not remember the crash. She did try to get back up and continue.. Her pedal and rear derailleur fell off – bike was done – she was pretty banged up, better that she stopped and didn't push it.
Overall the remainder of 9N was pretty uneventful. Passed a few people, had people pass me. Still working on keeping my heart rate in check and within our agreed range – was still a bit high, yet I felt good. Legs still a bit sore. Way too early to have fatigue in my quads. Uhg…
Kurt had told me that he used the water at the aid stations to cool off. A few times that is all I did, grab a bottle of water, drink some, pour some over my helmet and back – repeat – toss the bottle. I had plenty of food on me that I did not need to get anything from the aid stations except Gatorade and water.
Lap one getting done, 2 bottles of Gatorade just about done, Roctane done, plenty of water both in and on me.
The crowd support along the climb to town through Wilmington is awesome… especially heading up the 3 bears. Could not believe all the people there. Awesome (PR'd the bears along with many other spots on loop 1). This reminded me of videos you see from the Tour de France. Amazing how the spectators and volunteers make you feel.!
Head down towards town taking it easy. This is a no pass zone and I was being held up by the person in front of me. She pulled over at run special needs and I took the opportunity to pass her and head over to bike special needs. As you round the corner in town there are crowds of people and an announcer saying your name as you head down the hill. Nice, feeling special!
Bike Special Needs
Over at special needs..  Never did this before. Very similar to a NASCAR race pit stop. Need to find your lane where your bag is and cut in. I hop off the bike and start going through my bag. Tammy was on the other side of the road so I grabbed my PBJ and a sip of water and went to get a kiss and say hi. Chatted for a few seconds then back to my special needs bag, grab my bottle of coke, more nutrition, second bottle of Roctane. Found the M&M bottle I had filled half way with BASE salt, opened the container, dumped a bunch in my mouth, splashed in some water – Holy cow.. This went down tough. Figure you cannot eat too much salt, you can eat too little. This can only help me. (learned this from Mary Eggers – see, I listen.)
Mounted the bike and headed out for lap 2 – feeling great!
Start the climb out of town and the wind has started to pick up. Sun is out, a little hotter, this is going to be a much harder lap than last time. Knowing I was way ahead of my time at 3:33 – (was shooting for 3:45 – 4:00 hours for the first lap), I could take it a little easier and still be fine. I was really able to get my HR in check even with the hotter temps and the wind. I did take longer for the second lap at 4:03 ish. The HR was perfect. Right where I wanted. The legs came back real good and felt fine. My feet started burning like crazy. These were newer bike shoes and I hadn't done a 100 mile ride with them. It was either the socks or the shoes, something was burning like heck through the whole second lap..  I was really concerned my run / day would be over as I would not be able to stand. The plan was to take it easy on lap one (oops) and go a little harder on lap 2. I really tried backing off the first lap just didn't happen. I did manage to back off on lap 2 and save my legs. This was good… Getting in the extra salt at special needs really helped as well.
On my training rides, and previous races, I fail to keep up with fluids and nutrition on the second half of the bike. Not really sure why, think I may have figured it out. During the later part of my ride I start to compute speed / time / finish and this takes me away from concentrating on eating and drinking. Since I realized this I keep pushing myself to get back to eating and drinking. Still, I did not eat as much as I should have, so I really pushed the fluids – Gatorade, Roctane and Coke. I added the bottle of coke at special needs. This would give me added sugar and caffeine for the second loop. Plan was to start it after the climb to Wilmington and finish by transition. I started it a bit sooner and finished it just before the 3 bears – about 4 miles before the end – perfect timing. I was able to eat 2 bags of potatoes which also helped. Finished the bike in 7 hours and 36 minutes – 24 minutes ahead of my "best case" scenario!
Transition 2
Heading into T2 I was feeling really good. No too hot, had a great ride, and ahead of schedule time wise. Feet hurt like hell, just didn't have time to worry about it. Running [walking] to transition was a chore.
T2 was another fun time. Must have been as I took my sweet ass time. Drop my bike off, run to the rack, grab my gear bag – head to porta potty and then into the tent to change. I thought this went a little faster, but obviously not. The hotspots were real red on my feet. I took the time to wrap bandaids over the area for a little coverage. Confusion in changing / process / order of doing things again. Once I had my sneakers on my feet felt a little better. Grabbed some nutrition, had another PBJ and some chips, a bit of water and out the tent. Yes, baked more cookies. 🙂
Run
The plan was run as much as I can – walk the aid stations. I was tired, still pushed. I ran out of town and around a corner – wasn't far and here was the first aid station – wow – nice! (wasn't a full mile). The next part of the plan was if I felt good – eat! Knowing that my body would eventually stop wanting food and I would need to resort to only fluids, I was to eat as much as I could early and keep the calories in. I still did more Gatorade / Coke / RedBull than food items. BASE salt every so often – run. Run to aid station, walk, drink, water on my cooling towel, ice down my shirt / shorts – keep going. My watch was giving me lap times for each mile. I did not notice this until mile 4 – I was around 12:30 / mile – for a marathon pace this was fast for me. My cadence / HR was perfect – cadence at 170 – 173 and heart rate between 138 – 144 – just like training. Perfect! As long as I could push my muscles forward my cadence and HR was responding right in line. Each mile was between 12:30 – 14:30 / mile depending on how much I walked (hills and aid stations). This was right on target – would hit my mark at 6 hours ish.. I didn't eat everything I had. I did get in a few GU gummies which hit the spot.
Run Special Needs
At the end of lap one I hit special needs. Time for another 1/2 of PBJ, water and some chips. PBJ and horse radish chips are not the best together taste wise, they did hit the spot nutrition wise. A little flat Coke to wash it down. MMMmmmm  supper! A friend that was volunteering was "detained" so I waited a bit and chatted with Tammy and Gary. Yes, again, taking my sweet ass time!
A little later I had completed lap one of the run. I could hear Mike Reilly calling in others as "IRONMAN".. Music playing, people cheering..  Close, just not quite my turn – Yet!
As the day / evening progressed I would keep pushing to run when I could, walk the hills and the aid stations. The paces (cadence / HR) were staying on point. As I went on the HR stayed a little lower. This would indicate muscle fatigue as I could not push them to generate a higher heart rate. All good.. I had my cadence where I wanted and I was jogging – still! They brought out the chicken broth early. I would grab water, pour over my head / cooling towel and drink the broth / Gatorade / Coke / Redbull. I ate a bit of the stuff I had with me: waffle, beef stick, gel, etc. and did grab a banana once or twice.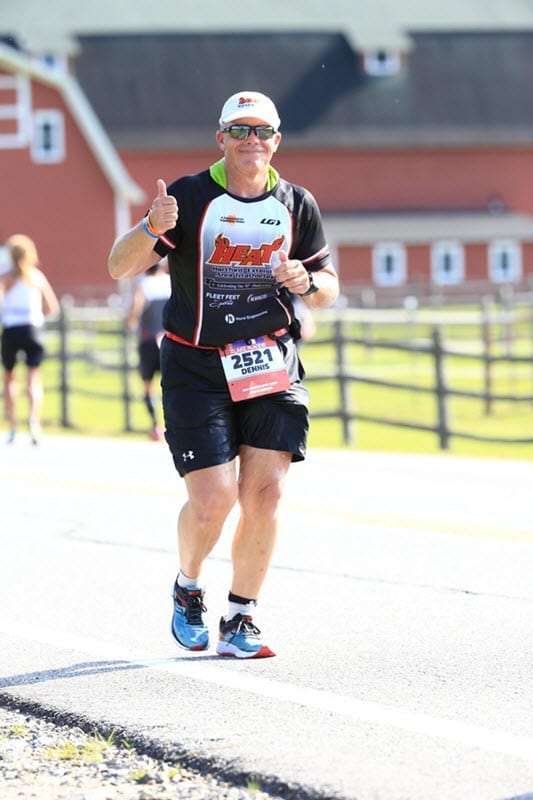 The second time down river road I walked a bit more than I wanted to. I knew I had plenty of time, no reason to over exert and mess up later. Take It easy, pace myself. On this second loop, while heading out, I passed a barn on the left. Looking over I saw the most beautiful sunset. The colors were..  Magical! One of those moments where you get lost in time. This would have been a perfect picture opportunity. Since I did not have a camera I just jogged a little slower, took it all in, said a little prayer – "Thank you God! – Thank you for the desire, opportunity and ability that you have given me. " This reminded me of the movie Forest Gump where Forest was running across the desert. (Tammy keeps calling me Forest when referencing my workouts and distances I have been doing) A very fitting "moment in time"!
I would eventually see a person or two in front of me and run until I passed them. When I made the turn at the end of River Road, I had a target to pass 12 people before I hit the ice cream shop in town. I accomplished this! Was picking off 2 – 3 people that were walking every mile or so. I was one of the few that were still running so late in the day. Was really good to hear people shout out "we have a runner here" and "Nice pace" – our goals / plans were coming to fruition.
Yet again the plan with my coach, Kurt, was working out. I had saved a few matches for later in the day and was able to light them up as needed. When I wanted to run, I ran. When I wanted to walk, I walked. There was no real pain that was stopping me. Fatigued, yes – I mean I was nearing the end of 140.6 miles – being tired and sore was to be expected. Having my body respond when I wanted was lucky. Luck is where preparedness meets opportunity.
Once I walked up Subway hill the second time, I started to put a plan into place. I would run / pass enough people and open a gap so I could have the finisher chute to myself. This was something told to me by a few people. When you enter the oval make sure there is room around you so you have the chute to yourself. Enjoy the moment – take it all in – it's yours!! The last mile or so was essentially just that. Down to the oval, pass a few more walkers and head in.
Once I started the final .2 – I saw the Eggers. – had to stop and give hugs, say thank you and smile! A little further and there were a few more peeps: Kurt, Dabney, Chris and Susan – yup, stop, give hugs, say thanks smile..  I think it was Chris that shouted to run it out..  Side to side, a few more high fives. The crowd is electric. Banging on the walls, the noise – unreal!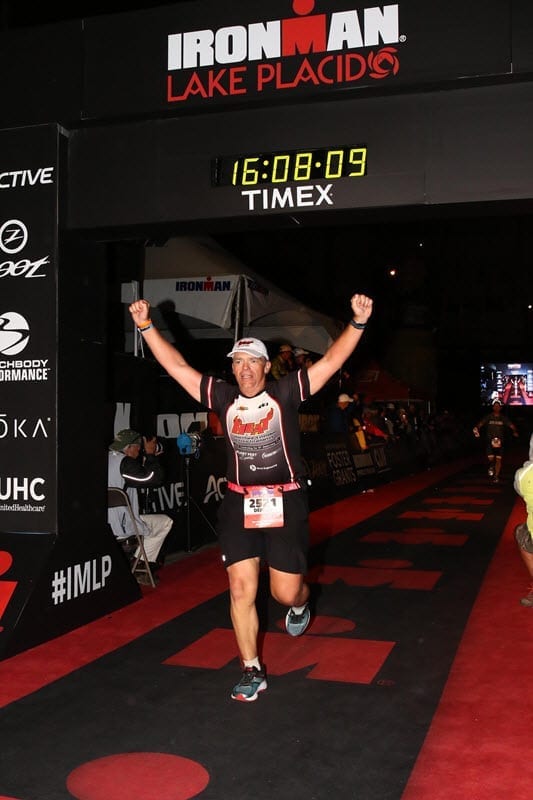 A few more steps, jumping in the air, fist pumping, Mike Reilly saying "Dennis Bosse – you are an IRONMAN!"..  And across the finish line.
I had completed 140.6 miles – I was an IRONMAN!
Received my medal from coach Jeff K. Nice! Tammy was off to the side – went on over for a hug and a kiss!
Wow, done, didn't even feel tired! Seriously – adrenaline or not. The plan we put together – training, pacing, strategy – was right on point for where I was condition wise. Could not have been better. Goal of 16 hours for my "best" paces and we beat it by 15 minutes.. Can't argue with that!
Quick stop for a picture, grabbed some grapes and a banana (only things they had gluten-free). Headed out to see Tammy…  Met up with Irene and Gary – so nice to see them. More hugs, more smiles.
Back with Tammy and we headed over to the bleachers to cheer in the remaining peeps…
Post-Race
I am really sure what I am going to say may piss off a few people… It really wasn't that bad! Just like the marathon last October. Planned our strategy, executed our plan, and felt great afterwards. A few hiccups along the way were minor. Identify the issue, think of ways to deal with it and move on. Keep moving forward.
Training log has me in recovery mode. Basically just taking it easy, going for walks and other non-triathlon activities. When I went for the first long(ish) walk the soreness in my feet came back quickly. Ah, I see, this is why we take it slow.
Yes, I (we) accomplished something epic. – Magical – is the word to best describe it. The last 15+ hours were a blur…
The best way to describe it is like your wedding day. You work and plan for months. When the day finally arrives it is over before you know it. – Seriously – just a victory lap!
Having this opportunity was amazing. Having the support of my family, Tammy especially, and friends is truly humbling. To my coaches Jeff S., Kurt, and all the other coaches I had the pleasure of meeting and learning from Thank-You!
Peace and Love,
– Dennis
Here is a link to Tammy's photo album on Facebook: Lake Placid IRONMAN
Here is a link to My Finisher Pix on Facebook: Finisher Pix
The "Pathetic" Story
I originally put this on Facebook in the "Pathetic Triathletes Group" aka PTG. Sharing here for others as well.
OK, I think I take the IMLP Pathetic Triathlon cake…
Passing a girl on the bike up the climb to Wilmington – see the #p on her calf… have a brief chat and say "yeah, I forgot to mark my leg.. etc…
Note – people in the PTG will typically put a #P on their calf to signify they are a member of the PTG Facebook group.
Later on the run (my first loop – returning down River Road) – I run past a guy walking with a "P" on his calf…
ME – Hey, are you a pathetic?
Him – what is that about? You being sarcastic..?
Me – No, there is this Facebook group.. (yadda yadda..) and they put "P" on their calfs…
Him – well mine stands for "professional" –
😮
I stop running – having since past him, and turn and walk back / start walking with him…
Have a nice chat for a bit.. He did well on his Swim / Bike yet was hurt. He said he had promised to never walk another marathon… was not going to take a DNF – was going to finish it out.. I congratulated him on persevering and finishing what he started…
So, yet again, I put my pathetic foot in my mouth… Oh yeah, Him = Matt Shanks: https://www.thematthewshanks.com/ironman-lake-placid-2017