YAIS – Yet Another Ironman Story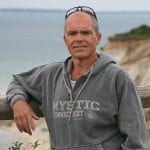 You may have seen them, might have even read a few…  Well, here is Yet Another Ironman Story!
*** Ironman races are registered, licensed and organized by the World Triathlon Corporation (WTC)
Starting to "Tri"
After my last medical condition, I had been working on losing weight and getting healthy. Working to get and stay fit as well as stay active. After losing a few pounds a friend suggested triathlons..  I had always wanted to do one, so I signed up for a sprint distance race in June of 2014. Actually signed up for 5! Hey, I saved $25 by doing that…
I ran my first sprint race at Winding Trails in Farmington, CT. What I didn't realize at the time..  this was an "off road" event. Meaning mountain biking and trail running. I had done neither of these previous to the first practice night. Let's just say that this was a story all it's own.
I didn't take enough time to prep, was more of a last minute thing. My goal was just "to finish"..  and that I did. It took me 1 hour and 50 minutes to swim 400 yards, bike 5+ miles and run 3.2 miles. The last part was more of a run / walk, still I finished!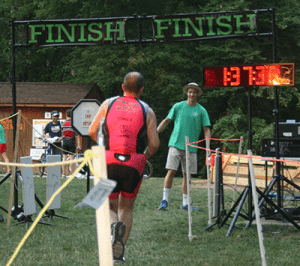 By the end of the 5th race I had shaved off 25 minutes from my total time. This was through practice, perseverance and a never give up attitude.
This "triathlon thing" has taken on legs of their own. Not only is it a great way to push yourself to keep working out and get / stay in shape – it is also a lot of fun! By setting goals to complete various races, it keeps me going to train and get better each and every time.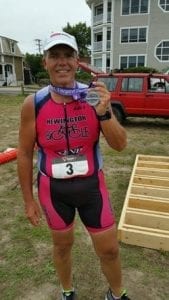 Note – Triathlons are typically classified into 5 different distances (Wikipedia – LINK):
Sprint Distance; 750-meter (0.47-mile) swim, 20-kilometer (12-mile) bike, 5-kilometer (3.1-mile) run.
Intermediate (or Standard) distance; commonly referred to as the "Olympic distance": 1.5-kilometer (0.93-mile) swim, 40-kilometer (25-mile) bike, 10-kilometer (6.2-mile) run.
Long Course; 1.9-kilometer (1.2-mile) swim, 90-kilometer (56-mile) bike, and a 21.1-kilometer (13.1-mile) run (half marathon). Commonly called a Half Iron or 70.3.
ITU Long Distance;4-kilometer (2.5-mile) swim, 120-kilometer (75-mile) bike, and a 30-kilometer (19-mile) run.
Ultra Distance; commonly referred to as 140.6 (total distance in miles, equivalent to 226.2 km) or the 'Ironman'; 3.8-kilometer (2.4-mile) swim, 180.2-kilometer (112.0-mile) bike, and a 42.2-kilometer (26.2-mile) run (full marathon).
Keep on "Tri-ing"
Last year (2015) saw my first attempts at road races and longer distances. I completed  a few of the Lake Terramuggus "Lake T" sprints, the Pat Griskis Olympic distance and the Vineyard 70.3 distance triathlons along with a bunch at the Winding Trails series.
This year will be more of the same. I have signed up for two of the 70.3 distance races: REV 3 in Middlebury, CT (June 5th)  and the Timberman in Gilford, NH (August 21st). I have also signed up to complete a full marathon (just running) for 26.2 miles. This is the Hartford Eversource Marathon in October.
YAIS – Yet Another Ironman Story
So, what does this all have to do with becoming an Ironman? – This is a building year. Preparation for "the big one" Ironman Lake Placid 2017 (IMLP).
I will be heading up to Lake Placid for a training camp the week before the IMLP 2016 race. During the weekend of IMLP I will be a volunteer for this years event. Since IMLP typically sells out every year, this is the best way to get your spot into the following years event. Works out well for the event..  you get interested people helping out and a constant input of new athletes. Win – Win!
Although my race is not happening for quite some time, I cannot stress the importance of planning and preparation. Remember my first sprint race? Where I said I didn't take enough time to prep? Well, let's just say I don't want that happening any more.
Last year was a good growth year. I Joined a triathlon club HEAT – Hartford Area Extended Triathletes and also worked with a mentor on line through beginnertriathlete.com. These two items have shown me the importance of working with coaches and mentors. People that have "been there done that" and know a few things, especially they know the things that you don't know you don't know. Got it?
I have also started working with two coaches: Jeff Stuart [Stuart Swim] for swimming and Kurt J. Lindboom-Broberg​ [Coach Kurt] for bike / run training. Working with these two gentlemen is showing me the difference of getting another person involved. Pushing you to a higher level, much better than doing it on your own.
Just the beginning
So here it is. The beginning of yet another Ironman story… There are two main things I will be looking to get out of this:
The feeling of accomplishment once this goal is complete.
Enjoying one hell of a journey along the way.
Thanks for reading and coming along on my journey. I am sure it will be a GREAT ride!!
Peace and Love,
-Dennis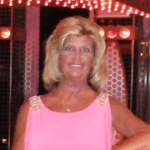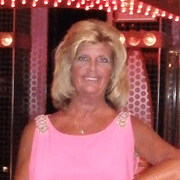 P.S. All of this is possible due to the love and support of my family and friends..  A special shout out to "my honey"..  Love ya!! -ME