First one is in the books
Why do you do stupid things like this?
A question I have heard a few times lately. The answer? I am really not sure.?.?

When I was completing the last part of the triathlon, this question went through my mind quite a bit. This was much tougher than I thought and had planned for. I was struggling. My legs hurt. Discarded water bottles on the path looked REALLY good. I was going much slower than I had anticipated. I had very little energy. The only thing I knew – I was going to finish!
Originally I had planned on taking about 2 hours to complete the whole thing. This was 30 minutes for the swim and 45 minutes each for the bike and run. It seemed like a pretty good estimation seeing as I had no real idea what to expect.
I was in the second wave (second set of participants to start) which is the the slower men, and just before wave 3 which is women. There is 2 minutes delay between waves.
When I was 1/2 way through the swim, most of the women had already past me. Which was fine. I was still going and hadn't stopped. I completed the entire swim, 1/4 mile, without stopping.
After jogging up the path to the transition area I crossed the timer at 17 minutes – well ahead of what I had planned.
Next up was the bike. This event kicked my butt. The bike I have is not really setup for this type of riding I still persisted. A few times on the hills, the chain jumped the gear and came off. I had to dismount and run up the hill, put the chain back on and keep going. My heart rate was 170 – 180 for almost the entire bike run. way too high for too long. Still, I never stopped…
I never noticed the time when I crossed the line for the transition area. I dropped my bike off, grabbed some Gatorade and kept going. I jogged out and up the first hill – and immediately was spent. I finished walking up the hill and jogged the flats / down hills. I walked a LOT more than I had anticipated. Still I kept going. Never stopped. My walking was almost as fast as my jogging. I was only able to get around 3 1/2 to 4 mph. I was determined to NOT hit 3 mph (2o min pace on my watch) no matter what.
With about 1/3 of a mile left, Jim was walking back on the trail to find me. Was really nice of him to do that. He walked with me, offered words of encouragement and made sure I kept going.
Once you cross the finish line – you are now a triathlete. You have the first one in the books. No one can ever take that away from you.
Crossing the finish line was a major accomplishment. What went well – I set a goal, trained, focused, and finished! What can I do [have done] better? Started training earlier (sooner). Set a training schedule – I did most of this seat of pants. Followed a more regimented routine. Get more sleep. All of these things are obtainable.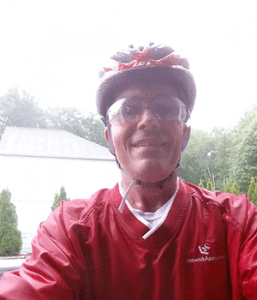 I have signed up for 5 events. This was the first one. The next one is July 1st. My goal for that one – beat my current time.
My split times were:
Swim- 15:36
Transition 1 – 2:04
Bike – 40:44
Transition 2 – 1:11
Run – 51:04
Total: 1:51:04
I finished almost 10 minutes faster than I had originally planned – even with the very slow walk / jog. I am figuring if I get better on the bike, hold on to some energy for the run / jog, I can easily bring the run to under 45 minutes. I will set my goals as follows:
Swim – under 15 minutes
Bike – under 40 minutes
Run – under 45 minutes
Reduce total time by ~8 minutes
Finish under 1:45
I will do this by:
Focus on aerobic conditioning and keeping my heart rate under 145 – 150 during training at all times.
Add weights into my training to gain strength.
With regards to my weight loss. I am doing well still. The outfit Tammy gave me for Father's day was medium shirt and size 34 shorts. They both fit well.
Weight is 191
Loss to date = 67 pounds
16 pounds to goal weight of 175
Getting back to the original question with regards to "stupid stuff" –  Stay Tuned! – there is more to come!
If anyone is interested in training with me, please let me know. I would love to have some company in the gym (LA Fitness), on the road – Jogging, and would really like to have someone who is in to mountain biking to partner with.
Any takers?
Peace and Love,
-Dennis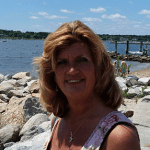 P.S. Special thanks and love to Tammy – for putting up with my schedule, early mornings, and everything that goes with this. 🙂
Love ya Honey!
Please follow and like us: